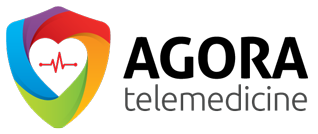 PRIVACY POLICY
AGORA Telemedicine's Privacy Policy
AGORA Telemedicine, as well as our vendors, partner service providers, consultants, and affiliates respect the privacy of its members and users of the AGORA Telemedicine Web site (the "Site" or the "Web site"). Our policy regarding privacy information that is collected and how that data is used is outlined below.
We take every reasonable precaution to protect your personal information including encryption and passwords.
AGORA Telemedicine is the sole owner of the information collected on this site only. We will not sell, share or lease this information to others except authorized and contracted PSP's who require such information to deploy their services. AGORA Telemedicine does not sell customer lists, e-mail addresses, cookies or other data. Cookies are data stored on the user's hard drive containing information about the user's browsing history. Usage of a cookie is not linked to any personally identifiable information while visiting the Web site. Once users close their browser, cookies simply terminate. AGORA Telemedicine software never uses cookies to retrieve information from your computer that was not already originally sent in a cookie. Except as described in this Policy, we do not use information transferred through cookies for any promotional or marketing purposes, nor is that information shared with any unaffiliated, non-PSP third parties whatsoever.
AGORA Telemedicine may share information with trusted partners, such as AGORA Telemedicine's data intelligence company, or marketing companies to help AGORA Telemedicine perform marketing activities, and statistical analysis. AGORA Telemedicine will also provide the necessary personal information to the companies assisting AGORA Telemedicine with processing credit/debit card transactions. AGORA Telemedicine reserves the right to disclose such information if required pursuant to a statute, a subpoena or other court order. In the event that AGORA Telemedicine is required to disclose this information, if permitted, AGORA Telemedicine will use commercially reasonable efforts to provide you with written notice of the information requested, provide you with information as to the name of the party requesting the information, if permissible under law, and provide you with the opportunity to challenge the disclosure. With respect to your demographic information (gender, date of birth, etc.) and social media profile information, these will be used for security purposes, to ensure you are who you say you are and, that you are, in fact, paying with authorized credit cards in your name, unless otherwise stated herein.
Information we collect when you use our services. When you use our services we will collect the following:
Transaction Data. To keep track of your payment history with us we will be collecting and storing transaction, activity. This data is stored for retrieval purposes should you require it, and will not be shared.
Communications and Ratings.If you submit a rating or review about AGORA Telemedicine, that information will be associated with your Account Profile. If you submit a request for assistance or contact AGORA Telemedicine or our PSP, we/they may record and store that interaction.
Log Data.Our servers log your IP address, your browser type, your mobile device ID, operating system, referring webpages, and your access times. ("Log Data").
AGORA Telemedicine uses cookies, which are small text files that are automatically generated during your interaction with our websites and store on your computer information such as identifiers and user preferences for the purpose of identifying your browser to our websites. You may set your browser to not accept cookies. Information you may give us when you use our services.
Information Use
Except as otherwise stated in this Privacy Policy, AGORA Telemedicine, its partner service providers, or affiliated companies (collectively, "AGORA Telemedicine Companies") use information that we collect or that is provided to us for the following purposes:
To provide, improve and enhance the services AGORA Telemedicine offer and market those services,
To research and develop new products, applications, features and services,
To facilitate transactions,
To monitor and analyze use of AGORA Telemedicine website for technical administration,
To detect and take action against fraudulent and abusive activities including activities that we determine violate the terms of any agreement for your use of our services,
To respond to your inquiries, and
To contact you regarding Account activities or send you communications relevant to your use of AGORA Telemedicine services.
From time to time AGORA Telemedicine may combine information about you and your use of AGORA Telemedicine services with information that we obtain or receive with our business partners. AGORA Telemedicine Companies' use of such combined information will be in accordance with this Privacy Policy.
Information Sharing and Disclosure
Except as stated in this Privacy Policy, AGORA Telemedicine will not share your Personal Information with third parties without your express prior consent.
Communications: From time to time AGORA Telemedicine may send out email messages alerting you that certain products or services are available, to remind you about providing feedback, or for promotional offers. In addition, you will receive communication from AGORA Telemedicine:
If you contact AGORA Telemedicine for a particular reason,
To receive or confirm your orders, or
If AGORA Telemedicine needs to contact you for administrative purposes such as winning a contest.
Administrative e-mails may contain promotional materials. If you choose to receive AGORA Telemedicine newsletters, they will contain promotional materials from AGORA Telemedicine and or our affiliates. At any time, you may discontinue receiving the AGORA Telemedicine newsletters by using the "unsubscribe" link at the bottom of the newsletters or by amending your account information through the AGORA Telemedicine Web site.
Third Party Developers & Service Providers. Unless specifically stated otherwise, AGORA Telemedicine is not responsible for and shall have no liabilities whatsoever for the unauthorized disclosure of information by any third party Web sites or storage facilities. AGORA Telemedicine members will hold AGORA Telemedicine harmless against any liability, damages or costs with respect to the unauthorized disclosure of any personal information by third party Web sites. We use associated developers and analytics service providers to better understand usage patterns on the AGORA Telemedicine.com website. These providers collect information on our behalf using cookies and similar technologies. We use these associated service providers to better understand how people use our services and so that we can improve the design and usability of our products. We do not collect or share personal information about our users with disassociated third parties that might be interested in doing so in order to track your browsing activity across websites and over time.
Compliance with Law Enforcement. AGORA Telemedicine cooperates with government and law enforcement officials and private parties to enforce and comply with the law. We will disclose any information about you to government or law enforcement officials or private parties as we, in our sole discretion, believe necessary or appropriate to respond to claims and legal process (including, but not limited to, subpoenas), to protect the property and rights of AGORA Telemedicine or a third party, to protect the safety of the public or any person, or to prevent or stop activity we may consider to be, or to pose a risk of being, illegal, unethical or legally actionable activity.
Business Transfers. AGORA Telemedicine may sell, transfer or otherwise share some or all of its assets, including your Personal Information, in connection with a merger, acquisition, reorganization, or sale of assets or in the event of bankruptcy.
Do Not Track Notice. AGORA Telemedicine does not respond to Do Not Track (DNT) signals. Some web browsers may transmit "do-not-track" signals to websites with which a browser communicates. Our websites do not currently respond to these "do-not-track" signals. In addition, some third party sites do keep track of your browsing activities when they serve you content, which enables them to customize what they present to you, perhaps even on our site. If you are visiting such sites, certain browsers allow you to set the DNT signal so that third parties become aware that you do not want to be tracked.
Security
Security is important to AGORA Telemedicine. But remember that no method of transmission over the Internet or method of electronic storage is 100% secure. While we strive to use commercially acceptable means to protect your Personal Information, we cannot guarantee its absolute security. We take steps to limit access to Personal Information only to those employees or third party service providers of AGORA Telemedicine Companies who we reasonably believe have a need to access such Personal Information to provide products or services to you or to fulfill their business responsibilities to AGORA Telemedicine Companies.
AGORA Telemedicine employs appropriate measures to protect Personal Information that we collect and maintain. These measures may include, among others, encryption, physical access security and other appropriate technologies. For example, AGORA Telemedicine encrypts the transmission of data over the Internet with SSL (secure socket layer) technology and takes steps to encrypt certain data that is stored on our servers appropriate to the sensitivity of the data.
Identity theft and the practice currently known as "phishing" are of great concern to AGORA Telemedicine. Safeguarding information to help protect you from identity theft is a top priority. AGORA Telemedicine does not and will not, at any time, request your credit card information, your AGORA Telemedicine Account credentials, login password, in a non-secure or unsolicited e-mail or telephone communication. For more information about phishing, visit the Federal Trade Commission's website, which is located at www.consumer.ftc.gov.
Changes to Our Privacy Policy
AGORA Telemedicine reserves the right to modify this Privacy Policy from time to time. If we make changes to this Privacy Policy, we will notify you of those changes. Your continued use of the Service after we post any modifications to the Privacy Policy on this page will constitute your acknowledgment of the modifications and your consent to abide and be bound by the modified Privacy Policy. If we make any material changes to this Privacy Policy, we will notify you either through the email address you have provided us, or by placing a prominent notice on our website. If you do not agree to the modified privacy provisions, you should discontinue use of the AGORA Telemedicine membership.
AGORA Telemedicine has developed the system technologies, including the interfaces to the technology systems provided by third party providers. AGORA Telemedicine manages the data security for only this site. Your personal health information is stored in encrypted format that meets standards defined by HIPAA (Health Insurance Portability and Accountability Act) by our Partner Service Providers, (PSP). All data transfer is executed using similar standards that meet or exceed HIPAA, and no data is transferred to users that do not have specific data access keys.
The importance of security for all personal information associated with you, your family, and that which you share with your primary care physician (PCP), is of extreme concern to our PSP as well as AGORA Telemedicine. At AGORA Telemedicine, we put into practice state of the art care in providing secure transmission of your information from your personal computer to our PSP's HIPAA-compliant servers. Personal information collected by our web site is stored in secure operations environments that are firewalled and not available to the public. Only those PSP and AGORA Telemedicine employees who require access to your information in order to do their jobs are allowed access, and each have signed a confidentiality agreement that is on-file. Any employee who violates our privacy or security policies is subject to disciplinary action, up to, and including, termination and civil and/or criminal prosecution.
Any information that you submit to us via the Web site – whether a survey, registration form, personal history form, or e-mail will be used exclusively by the PSP's consulting physicians and only for the specific reason for which they were submitted.
Acceptance
By using this site and the AGORA Telemedicine service, you signify your acceptance of this Privacy Policy, as stated. If you do not agree to this policy, you should not continue, and you should not use our service. Should we make any changes to the AGORA Telemedicine Privacy Policy, we will post these changes prominently so users are always aware of what information we collect, how we use it, and under what circumstances, if any, we disclose it. We recommend that you read this Privacy Policy each time you use the Web site in case you missed our notice of changes to the Privacy Policy. Your continued use of the services and the Web site following the posting of changes to these terms will mean you accept those changes.
AGORA Telemedicine welcomes your questions and comments about privacy, in general, and our privacy policy, specifically. If you have any questions about our policies or our site, please email info@agoratelemedicine.com.
Notice of HIPAA Privacy Practices
THIS NOTICE DESCRIBES HOW OUR PSP COLLECTS MEDICAL INFORMATION ABOUT YOU AND HOW IT MAY BE USED, AND DISCLOSED, AND HOW YOU CAN GET ACCESS TO THIS INFORMATION. PLEASE REVIEW IT CAREFULLY AND REPORT ANY ISSUES, OR CONCERNS, TO: info@agoratelemedicine.com. WE WILL PROMPTLY PASS IT ALONG TO OUR PSP WHO IS IN EXCLUSIVE POSSESSION AND MAINTAINS THIS DATA.
The Health Insurance Portability & Accountability Act of 1996 (HIPAA) is a federal program requiring that all medical records and other individually identifiable health information used, or disclosed, by us in any form, whether electronically, on paper, or orally, are kept properly confidential. This Act gives you, the Patient, significant new rights to understand and control how your health information is used. HIPAA provides penalties for covered entities that misuse personal health information. We have prepared this "Notice of HIPAA Privacy Practices" to explain how our PSP's are required to maintain the privacy of your health information and how they may use and disclose your health information. Our PSP may use and disclose your medical records for each of the following purposes: treatment and health care operations:
TREATMENT means providing, coordinating, or managing health care and related services by one or more health care providers
HEALTH CARE OPERATIONS include managing your Electronic Medical Record to facilitate diagnostic medical consultations with associated physicians, as well as conducting quality assessment review and service improvement planning activities, auditing functions, cost-containment analysis, and customer service.
The PSP may also create and distribute de-identified health information by removing all references to individually identifiable information. The PSP may contact you to provide information about their services or other health-related services that may be of interest to you. Any other uses and disclosures will be made only with your written authorization. You may revoke such authorization in writing and our PSP is required to honor and abide by that written request, except to the extent that we have already taken actions relying on your authorization. You have the following rights with respect to your protected health information, which you can exercise by presenting a written request to info@agoratelemedicine.com and we will pass this along to our PSP. You have the right to ask for restrictions on the ways AGORA Telemedicine's PSP uses and discloses your health information for treatment, payment, and healthcare operations. You may also request that they limit your disclosures to them to persons assisting your care. They will consider your request, but are not required to accept it. You have the right to request that you receive communications containing your protected health information from them by alternative means or at alternative locations. For example, you may ask them to only contact you at home or by mail. Except under certain circumstances, you have the right to inspect and copy medical, billing and other records used to make decisions about you. If you ask for copies of this information, they may charge you a nominal fee for copying, packaging, and postage. If you believe that information in your records is incorrect, or incomplete, you have the right to ask them to correct the existing information, or add missing information. Under certain circumstances, they may deny your request, such as when the information is not accurate or complete. You have a right to receive a list of certain instances when they have used or disclosed your medical information. If you ask for this information from them more than once every twelve months, charges may apply, to cover their costs for administration, archive retrieval, copying, packaging, and postage.
Contacting AGORA Telemedicine
Your feedback is always welcome! AGORA Telemedicine welcomes your comments and questions about AGORA Telemedicine's privacy policy – or any other matter. If you have any questions about this Privacy Policy, please contact us via email at info@agoratelemedicine.com.